Jesus was exhausted.
He was in pain.
He was going to his death.
The cross was heavy and he fell.
He was flesh and blood like us,
he was struggling.
From Eggs and Ashes, Wild Goose Press

The third station in the Way of the Cross depicts Jesus as he falls under de heavy weight of the cross. This station asks us to contemplate where we fall in our life.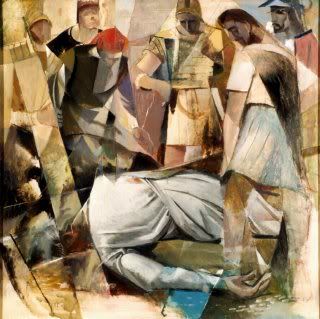 My question for today is: "Where in my own life do I fall?" I have pulled the Hiërophant as an answer, my soul and personality card.




I fall in the crises of my life. The Hiërophant in the Voyager Tarot – the deck I have used for this reading – learns from the crises he experiences in his life. He is also a teacher. That is the take from James Wanless, the maker of the deck on this card. Through these crises the Hierophant gains wisdom. Crises help him to test lf what he has learned and taught is practical and valid and liberating. The crises make it possible that he changes his teachings that can be rigid and dogmatic, change his view on life and on himself.

The Hiërophant card teaches me that it is ok to fall. Not that I want to fall, not at all, I do not choose it – but at least I learn and gain wisdom from it.