Yesterday I was all day in Amsterdam. Part of the time I have spent in the new library in the Oosterdokkade, next to the Central Station. It was exhilarating to be and read in this building. It is seven storey's high. The front has a view on a river and behind the river is the centre of Amsterdam. On the front side of the building are windows from top to bottom on each level. And on each level are big armchairs in front of these windows. I sat on the sixth storey in such an armchair with a stunning view on Amsterdam. No camera…so these photos are not mine. Yesterday there was sun. Still, this is the view. The other picture shows the childrens department.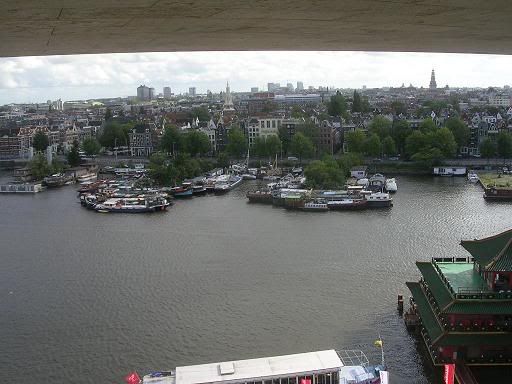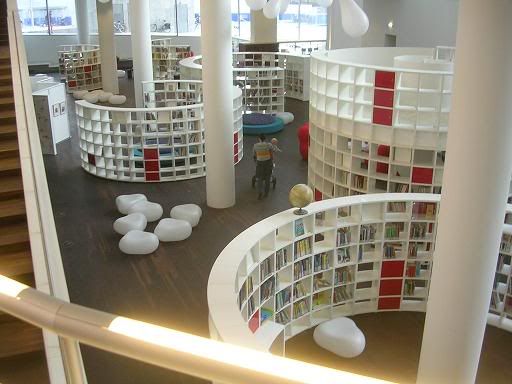 Sitting on my confortable couch I read the book Sacred Therapy by Estelle Frankel. The book shed light on the two five cards I have drawn from the Voyager in the Way of the Cross. Since it were two Fives, coming from the same deck, they must have a message for me. The last five card was at the fourth station where Jesus meets his mother. I pulled the card called 'Negativity', Five of Crystals (Swords).




While writing the entry I felt that this card was not only an answer to the question I asked at that station, but also showed me something about my attitude to the Way of the Cross which is mainly about suffering. My attitude is: "negativity". The stations force me to relate to suffering so much, and the images are so gruesome, that I find it hard to walk them.

Frankel uses the Kabbalistic Tree of Life to explain that darkness and brokenness is necessary for healing and restoration. I am aware that I am way too short here, but I cannot expand on it, I must weight my words so much, it takes too long and I am tired. All in all I liked her view very much. Frankel does not mean: "Suffer a bit, it helps you to heal!" Frankel means it as a comfort for people who already suffer, to make their suffering easier to bear and to make life, which is imperfect for everybody, easier to live. Important in her view is the Lurian thought of how the world is created. Luria says that in the creation there were vessels through which Gods light came, but these vessels could not contain Gods light. They broke when they received it. In our creation the different pieces of the vessels are all over, each containing a spark of life. Our task is to put them together again. She tell this story over and over again in different words, and applies it to the suffering of individual persons. Reading those words again and again while I quietly sat in the library looking over the skyline of Amsterdam, I felt comforted, and a less uneasy with the stations. Who knows it is easier to look and contemplate the stations now.

My insights from Sacred Therapy also made me add a layer on my interpretation the Hierophant, the first five card that I pulled this week. The comfort in this card is that brokenness leads to wholeness, not only to wisdom.




I do not know when I am able to write again. Tomorrow I cannot. I am off to Amsterdam again and now already I am pretty exhausted, after going to Amsterdam two times, and making easter-crosses with children all afternoon.