I have pulled a card to look back on the day. My card is Six of Swords from the Tarot of Saints.




Pictured is a mother who carries her daughter in the direction of the swords, away from them. In first instance I thought that the little figure in brown clothes was carrying the big figure, and I identified with the carrying little figure. It is meant the other way around. The little figure is the daugther clinging to her mother. This card shows my day quite apt. In a few days my daughter starts her new school. She is looking forward to it but she is also afraid. My husband made a cupboard for her room today. I cleaned and changed the arrangement of the furniture in her room. My daughter went a blank during all of this. She was just not 'there' anymore. What she managed to do is making book covers, which is great. It helped her to be in this world again. But she wanted me sitting next to her, and I did it, because I promised it. That was hard for me, just sitting, knowing she would be angry if I made a suggestion about it. That was the moment my husband walked into the room and thought: "I need to call the Jelle" (the undertaker here). I looked lifeless as a sheet.

On the whole though, I am very satisfied with this day. I am glad we accomplished so much for the start of the school. The card shows me (the big figure) making the transition with my daughter (the little brown figure).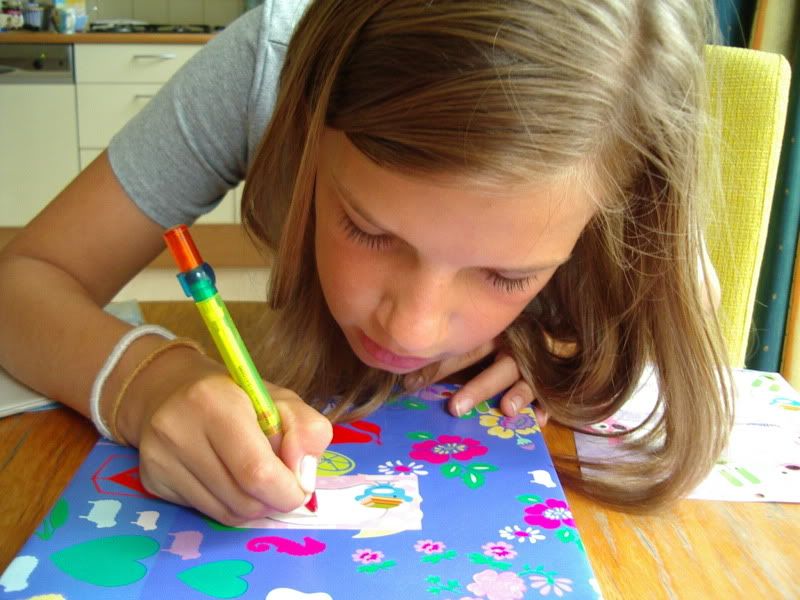 Book covering